Facts About Brazil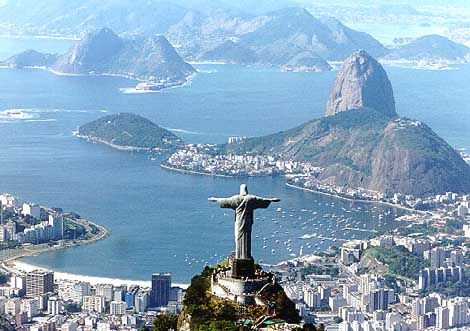 Rio de Janeiro, Brazil

Facts About Brazil
Brazil is located in Eastern South America, bordering the Atlantic Ocean.
Language: Official language is Portuguese

Currency: Real (pleural is Reais)

Population: 198,739,269

Land Size: 8,514,877 square kilometers

Capital: Brasilia

Borders:
Brazil has borders with Argentina, Bolivia, Colombia, French Guiana, Guyana, Paraguay, Peru, Suriname, Uruguay, and Venezuela.
Industries:
textiles, shoes, chemicals, cement, lumber, iron ore, tin, steel, aircraft, motor vehicles and parts, other machinery and equipment. Agriculture: Coffee, soybeans, wheat, rice, sugarcane, cocoa, citrus; beef

Land divisions:
26 states and 1 federal district*: Acre, Alagoas, Amapa, Amazonas, Bahia, Ceara, Distrito Federal*, Espirito Santo, Goias, Maranhao, Mato Grosso, Mato Grosso do Sul, Minas Gerais, Para, Paraiba, Parana, Pernambuco, Piaui, Rio de Janeiro, Rio Grande do Norte, Rio Grande do Sul, Rondonia, Roraima, Santa Catarina, Sao Paulo, Sergipe, Tocantins
Major Cities: Top ten:
Sao Paulo, Rio de Janeiro, Salvador, Belo Horizonte, Fortaleza, Brasilia, Curitiba, Recife, Porto Alegre, and Manaus.

Top Tourist Attractions in Rio de Janeiro
Christ the Redeemer
Sugarloaf Mountain
Maracana Stadium


---

To find Brazil tourist visa application and information, go to Direct-PassportVisas.com

English
Brazil Flag   Map of Brazil   Where is Brazil

Español
Bandera de Brazil   Mapa de Brazil



Sources
https://www.cia.gov/library/publications/the-world-factbook/geos/br.html
http://www.v-brazil.com/information/currency.html
http://www.famouswhy.com/List/Brazil%27s_Top_10_Largest_Cities/315.html
http://cs.nyu.edu/overton/genearoundtheworld/

Other keywords used are facts Brazil, Brazil facts, Brazil information, and information on Brazil.


---
Return from facts about brazil to the home page
---

Medford, Oregon, United States

Central Point, Oregon, United States

Grants Pass, Oregon, United States

Crater Lake National Park, Oregon, United States