Facts About Uruguay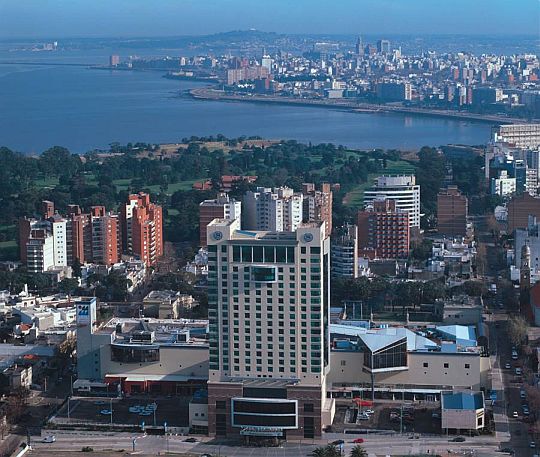 Montevideo, Uruguay

Uruguay Flag Bandera de Uruguay Map of Uruguay Mapa de Uruguay
Facts About Uruguay
Uruguay is located in Southern South America, bordering the South Atlantic Ocean, between Argentina and Brazil.
Language: Official language is Spanish

Currency: Uruguayan peso (UYU)

Population: 3,494,382 (July 2009 est.)

Land Size: 176,215 square kilometers

Capital: Montevideo

Borders:
Uruguay has borders with Argentina and Brazil.
Industries:
food processing, electrical machinery, transportation equipment, petroleum products, textiles, chemicals, beverages. Agriculture: rice, wheat, soybeans, barley; livestock, beef; fish; forestry.

Land divisions: 19 departments:
Artigas, Canelones, Cerro Largo, Colonia, Durazno, Flores, Florida, Lavalleja, Maldonado, Montevideo, Paysandu, Rio Negro, Rivera, Rocha, Salto, San Jose, Soriano, Tacuarembo, Treinta y Tres.
Major Cities:
Montevideo (Montevideo), Salto (Salto), Paysandú (Paysandú), Las Piedras (Canelones Department), Rivera (Rivera), Maldonado (Maldonado Department), Tacuarembó (Tacuarembó), Melo (Cerro Largo Department), Mercedes (Soriano Department), Artigas (Artigas Department).



Sources
https://www.cia.gov/library/publications/the-world-factbook/geos/uy.html
http://www.gocurrency.com/countries/uruguay.htm
http://www.geonames.org/UY/largest-cities-in-uruguay.html
http://www.skyscraperlife.com/city-versus-city/30812-quito-y-guayaquil-vs-montevideo-y-asuncion.html

Other keywords used are facts Uruguay, Uruguay facts, Uruguay information, and information Uruguay


---
Return from facts about uruguay to the home page
---

Medford, Oregon, United States

Central Point, Oregon, United States

Grants Pass, Oregon, United States

Crater Lake National Park, Oregon, United States