Facts About Paraguay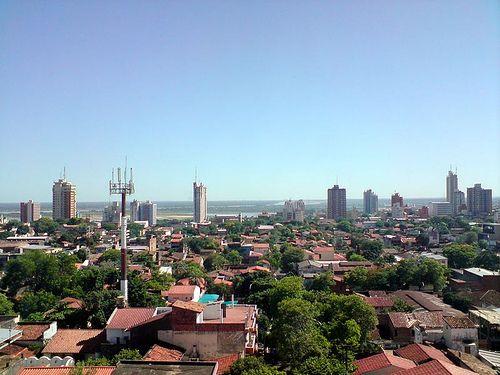 Asuncion, Paraguay

Paraguay Flag Bandera de Paraguay Map of Paraguay Mapa de Paraguay
Facts About Paraguay
Paraguay is located in Central South America, northeast of Argentina.
Language: Official language is Spanish

Currency: Guarani (PYG)

Population: 6,995,655 (July 2009 est.)

Land Size: 406,752 square kilometers

Capital: Asunción

Borders:
Uruguay has borders with Argentina, Bolivia, and Brazil.
Industries:
Sugar, cement, textiles, beverages, wood products, steel, metallurgic, electric power. Agriculture: Cotton, sugarcane, soybeans, corn, wheat, tobacco, cassava (tapioca), fruits, vegetables; beef, pork, eggs, milk; timber.

Land divisions: 17 departments and 1 capital city*
Alto Paraguay, Alto Parana, Amambay, Asuncion*, Boqueron, Caaguazu, Caazapa, Canindeyu, Central, Concepcion, Cordillera, Guaira, Itapua, Misiones, Neembucu, Paraguari, Presidente Hayes, San Pedro
Major Cities:
Asunción (Asunción), Capiatá (Central), Ciudad del Este (Alto Paraná), Luque (Central), San Lorenzo (Central).



Sources
https://www.cia.gov/library/publications/the-world-factbook/geos/pa.html
http://www.nationmaster.com/country/pa-paraguay/cur-currency
http://www.worldatlas.com/webimage/countrys/samerica/py.htm
http://wwp.greenwichmeantime.com/time-zone/south-america/paraguay/cities/index.htm
http://www.happytellus.com/gallery.php?img_id=4653

Other keywords used are facts facts Paraguay, Paraguay facts, Paraguay information, and information Paraguay.


---
Return from facts about paraguay to the home page
---

Medford, Oregon, United States

Central Point, Oregon, United States

Grants Pass, Oregon, United States

Crater Lake National Park, Oregon, United States