Facts about bolivia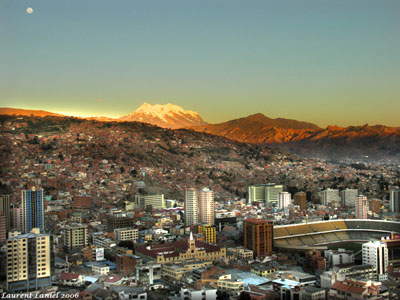 La Paz, Bolivia

Bolivian Flag Bandera de Bolivia Map of Bolivia Mapa de Bolivia
Facts About Bolivia
Language: Official language is Spanish

Currency: Bolivia's currency is called Boliviano

Population: 9,775,246 (July 2009 est.)

Land Size: 1,098,581 square kilometers

Capital: La Paz

Borders: Its borders are with Argentina, Brazil, Chile, Paraguay, and Peru.
Industries:
Mining, smelting, petroleum, food and beverages, tobacco, handicrafts, clothing. Agriculture: Soybeans, coffee, coca, cotton, corn, sugarcane, rice, potatoes; timber
Land divisions: Bolivia ha departments (departamentos):
1. Beni
2. Chuquisaca
3. Cochabamba
4. La Paz
5. Oruro
6. Pando
7. Potosi
8. Santa Cruz
9. Tarija
Major Cities:
Ciudad Cochabamba, Ciudad Oruro, Ciudad Potosi, Ciudad Santa Cruz, Ciudad Tarija, Ciudad Trinidad, Ciudad de Santa Cruz de la Sierra, Cobija, Cobila, Cobya, Cochabamba, Gruro, Oruro, Potosi, Puerto Cobija. Santa Cruz de la Sierra, Tarija, Trinidad



Sources
http://www.travel-bolivia.com/bolivia-currency.html
https://www.cia.gov/library/publications/the-world-factbook/geos/bl.html
http://itouchmap.com/?r=w&bk=c&DG=PPLA&c=bl
http://laniel.free.fr/INDEXES/GraphicsIndex/LA%20PAZ%202/La_Paz_400.jpg

Other keywords used are facts Bolivia, Bolivia facts, information Bolivia, and Bolivia information.


---
Return from facts about bolivia to the home page
---

Medford, Oregon, United States

Central Point, Oregon, United States

Grants Pass, Oregon, United States

Crater Lake National Park, Oregon, United States