Mi Pueblo Natal - My Home Town
View this page in Spanish
Mi Pueblo Natal ( My Home Town ) - My name is Hector, born in a small and remote town called Tocoa located in a corner of the department of Colón (Columbus), Honduras Central America. I say remote because a long time ago, it seemed that my town was lost and forgotten inside the immense tropical jungle.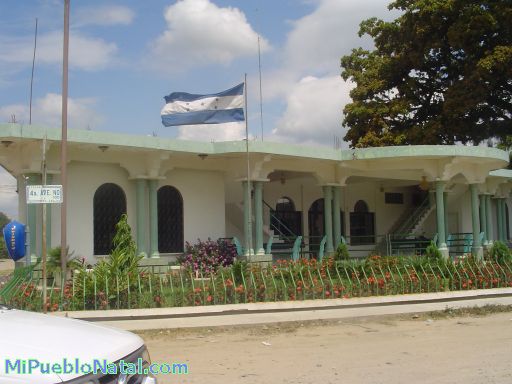 City hall - Tocoa, Honduras, Central America. Mi Pueblo Natal
The only way to get out of there was on foot or by horse-back. The trip was difficult because we had to travel long distances though trails filled with mud and had to cross turbulent rivers as a result of the tropical rains that seemed to never end.
The big life style change and culture while living in the United States since 1982 has not been enough to break the chains that tie me to the past because I remember my people and my land as if it was just yesterday. I give thanks to God for helping me keep intact the images and experiences in my heart of a beautiful past. All the values that where taught to me have helped me become the great person I am today.
If you are far away and are in the same situation as myself, I invite you to spend some time reading these pages and to take a look at some of the pictures. Hopefully this will make you feel the need to have a place like this one where you can go and post information about your own home town and of your people so you can see them often.
If you would like to talk about your home town the same way I am doing about mine just let me know and I will create a section just for you. It doesn't matter which country you are from.
How do you get started? Just scroll down the page and write whatever you like about your home town in the long form. If the information you write is detailed and informative, I will personally create a special section of your town. Just make sure you include the country, state, and county or municipality you are from so I can place it in the right place.
If you want to send pictures for your page just click here to send them to me. Please write in the subject line "My home town pictures."
Note. Everything I'm doing is manually and there is a lot of work involved. For this reason, you need to do your own writing and this will save me some time. Make sure it is your own work and not copied from someone else.
Please Contact us if you have any questions.
Mi Pueblo Natal is Tocoa. Stop by and you will get an idea of what this site is all about.


Link partners

---
Majorca tourist travel information guide
Majorca, the number 1 destination for European tourists. Travel information guide for resorts, hotels, car rentals, flights, ferries, airport shuttles, entertainment, outdoor activities. Spanish Taxes Information, Property Sales and Holiday apartment rentals.
---
Show Off Your Home Town to the World by Writing About it
Knowing a little about a country or a town gives people an idea what to expect. For this reason, I invite you to write about your own country or home town explaining why it is worth a visit. Give your country or town a chance to be discovered by many travelers by giving them hidden and precious information.
What Other Visitors Have Said
Click below to see contributions from other visitors to this page...

Auckland, New Zealand Not rated yet
Auckland is home to over 1.4 million people in a country that only has a population of 4.3 million it is clearly quite a popular place to live. I'm going …
---
Return from mi pueblo natal to the home page
---