Nevada State Flag
Nevada State Flag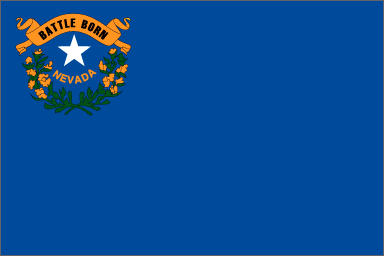 The Flag of the State of Nevada consists of a cobalt blue field with a silver star in the upper left hand corner, surrounded by the state name "Nevada." Above the star there is a golden-yellow scroll with the words "Battle Born," indicating that Nevada became a state during the American Civil War. Below the star are two sprays of green sagebrush with yellow flowers. The sagebrush is Nevada's state flower.
Please see Nevada State map
English
United States Flag | United States Map | USA States Names | USA States and Capitals | USA States Abbreviations | United States Currency

Español
Bandera Americana | Estados Unidos Mapa | Moneda de USA


Sources
http://en.wikipedia.org/wiki/Flag_of_Nevada
Other keyword used are Nevada flag, flag of Mevada, and flag Nevada.
---
Return from Nevada State Flag to facts about Nevada

Return to United States Facts
---