Colombian Map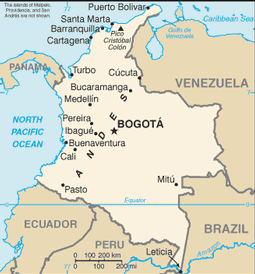 Mapa de Colombia
Colombian Map
Colombia is located in the Northern part of South America, bordering the Caribbean Sea, between Panama and Venezuela, and bordering the North Pacific Ocean, between Ecuador and Panama.
Colombia has 32 departments and they are listed below:
Amazonas (Leticia), Antioquia (Medellín), Arauca (Arauca), Atlántico (Barranquilla), Bolivar (Cartagena (Colombia), Boyacá (Tunja), Caldas (Manizales), Caquetá (Florencia), Casanare (Yopal), Cauca (Popayan), Cesar (Valledupar), Chocó (Quibdo), Córdoba (Monteria), Cundinamarca (Bogotá), Guainía (Puerto, Inirida), La Guajira (Riohaca), Guaviare (San Jose del Guaviare), Huila (Neiva), Magdalena (Santa Marta), Meta (Villavicencio), Nariño (Pasto), Norte de Santander (Cucuta), Putumayo(Mocoa), Quindío (Armenia), Risaralda (Pereira), San Andres y Providencia (Departamento) (San Andrés), Santander (Bucaramanga), Sucre (Sincelejo), Tolima (Ibagué), Valle del Cauca (Cali), Vaupés (Mitú), y Vichada (Puerto Carreño).



Sources
http://geology.com/world/colombia-satellite-image.shtml
https://www.cia.gov/library/publications/the-world-factbook/geos/co.html
Other tags used are Colombia map, map of Colombia, maps Colombia, and map Colombia.


---
Return colombian map to facts about colombia

Return to the home page
---