Bandera de Barbados
Bandera de Barbados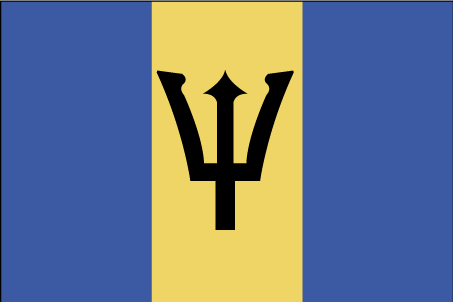 La bandera tiene tres franjas verticales que son iguales; dos azules y la de en medio es amarilla (color de oro).
Significado de la bandera:
El color azul representa el océano y el cielo. El color de oro representa las playas.
El tridente negro que se encuentra en la franja central representa lo siguiente. El color negro representa la herencia negra de los pueblos africanos; el tridente en alusión al dios de los mares: Neptuno la lanza rota significa la separación de la corona y el cambio de la dependencia a la independencia.

English
Caribbean Countries | Caribbean Map | Barbados Flag | Map of Barbados

Español
Paises del Caribe | Mapa del Caribe | Mapa de Barbados





Sources
https://www.cia.gov/library/publications/the-world-factbook/flags/flagtemplate_bb.html
http://www.sitographics.com/enciclog/banderas/america/source/4.html
Otras palabras claves usadas son Barbados bandera, bandera Barbados, Barbados bandera, and bandera Barbados.


---
Regresar de bandera de Barbados a facts about Barbados

Regresar a paises del Caribe
---