Molokini Island - Molokini Crater






Molokini Island | Molokini Crater


Molokini is a small horseshoe shaped island located in Maalaea Bay about 2.5 miles off the south coast of Maui. This island is one of the the most common areas people go to for snorkeling, scuba diving, and cayaking. There are special tours that will take you to the island on days where the weather is perfect for these activities.
Molokini Crater

We went to one of these snorkeling trips to Molokini and I was very excited to be part of it because I had never snorkeled before. I am a great swimmer and was eager to jump into the water as soon as I got all my gear on. Anyway, I jumped but forgot I was supposed to keep my mouth closed and took a gulp of "salty" water. Not a good feeling. After I recuperated, I tried it slowly. I managed to do some "snorkeling" for about fifteen minutes but kept forgetting to keep my mouth closed. Guess what? I kept drinking the darn "salty" water. Not a good feeling. I drank so much water that there is hardly any water around the island! People now go snorkeling somewhere else!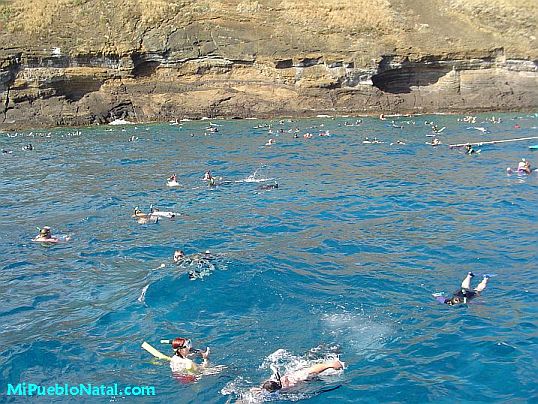 Molokini Island

After we were done in Molokini, we went turtle sight seeing. We saw a few but they where too fast to have their pictures taken. Darn it! Far on the distance you could see lots and nice nearby Lahaina resorts. We stayed on Napili but I think next time I will stay some where else. There are a few hotels in Lahaina that you could stay because you will have everything right there. That is if you want to hang out a lot in Lahaina like we did.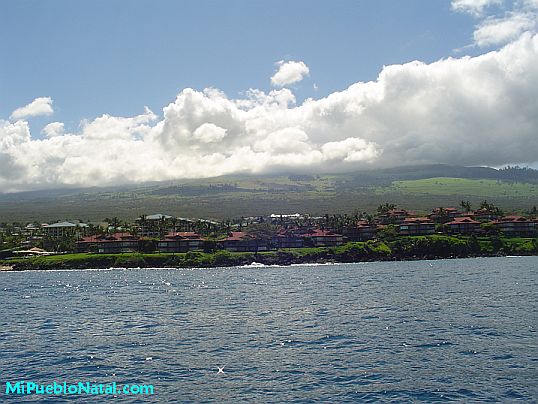 Nearby Lahaina Resorts

Pride of Maui
- Snorkeling in Maui is some of the best in the world and aboard our first class catamaran Pride of Maui you will experience Maui's premier snorkel and diving destinations. Daily Snorkel, SCUBA and SNUBA diving trips. Sunset Cruises available in the evening and Private Boat Charters upon request.
---
Return from molokini island to photo slide shows

Return to facts about Hawaii

Return to the home page
---