Pride of Maui Molokini Tours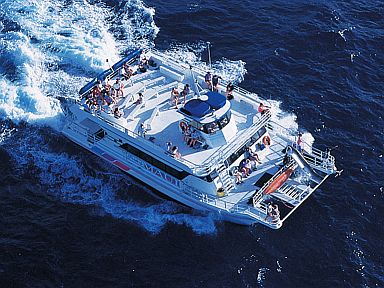 Pride of Maui

Maui is one of the most popular destinations for unforgettable snorkeling tours. Out of all of Maui's snorkeling spots, none is more amazing than Molokini Crater. Molokini is one of only three underwater volcanos in the world and is a spectacular site for snorkeling or diving.
The Incredible Molokini Crater
Molokini Crater Island spans a width of almost a mile, goes 300 feet below sea level, and at its peak rises 160 feet above sea level. This volcano once broke the clouds but now is home to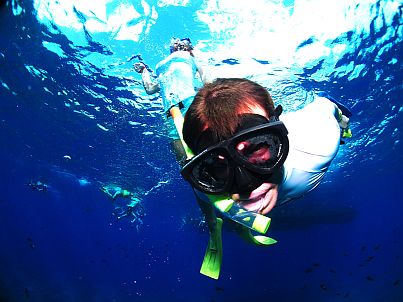 Hawaii's largest marine wildlife reserve and sea bird sanctuary. Molokini contains an extremely diverse selection of sea life such as turtles, rays, fish, and often even the beautiful and sought-after humpback whales. The waters of this marine life sanctuary are remarkably clear because the island lacks any sediment to muddy the water. On any given day, the water is crystal clear to a depth of 200 feet.
The World-Famous Pride of Maui Molokini Tours
Pride of Maui's Molokini Tours are world famous for several good reasons.
Each tour offers guests a choice of scuba, snuba, or snorkeling. This allows everyone to enjoy the experience, whether they're beginners or experienced divers. Families appreciate knowing that everyone, from kids to adults, can customize their Molokini tour experience.
Each Molokini snorkel tour is accompanied by an expert crew ready and willing to serve its guests. They instruct and supervise each guest every step of the way,
ensuring that guests have the safest and most memorable experience possible. On the Molokini tour all equipment is included and delicious meals are freshly-prepared on board, all for one low price. Guests can even choose to include an excursion to world-famous Turtle Town. Turtle Town has one of the highest concentrations of Hawaii's beloved green sea turtles.
Pride of Maui's trip to Molokini is an affordable way to see Maui's most exciting snorkeling destination and spend the day enveloped by the spirit of Aloha. It's a day and experience that will never be forgotten.
Snorkeling in Maui is some of the best in the world and aboard our first class catamaran Pride of Maui you will experience Maui's premier snorkel and diving destinations. Daily Snorkel, SCUBA and SNUBA diving trips. Sunset Cruises available in the evening and Private Boat Charters upon request."
---
Return from Pride of Maui to Facts About Hawaii
---