Granada Flag - Flag of Grenada
Granada Flag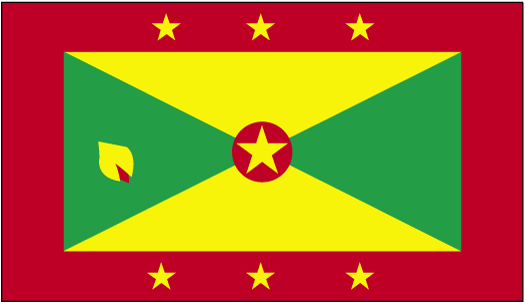 The flag of Greanada has a rectangle divided diagonally into yellow triangles (top and bottom) and green triangles (hoist side and outer side), with a red border around the flag; there are seven yellow, five-pointed stars with three centered in the top red border, three centered in the bottom red border, and one on a red disk superimposed at the center of the flag; there is also a symbolic nutmeg pod on the hoist-side triangle. renada is the world's second-largest producer of nutmeg, after Indonesia. The seven stars represent the seven administrative divisions.
English
Caribbean Countries
|
Caribbean Map
|
Map of Grenada
Español
Paises del Caribe
|
Mapa del Caribe
|
Bandera de Granada
|
Mapa de Granada
Sources
https://www.cia.gov/library/publications/the-world-factbook/flags/flagtemplate_jm.html
Other tags used are flag of granada, flags of granada, and flag granada.


---
Return from Granada Flag to Caribbean countries

Return to the home page
---