Facts About Jordan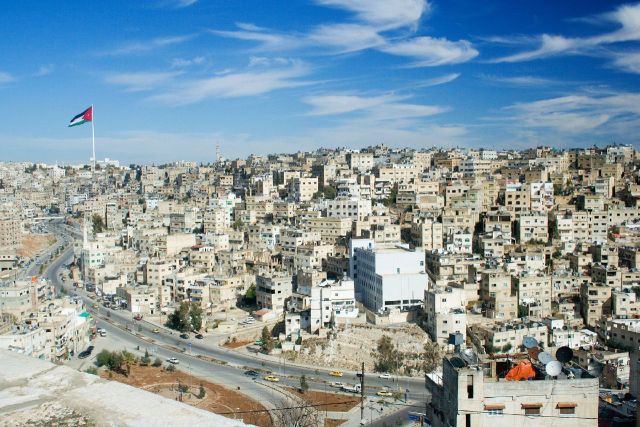 Amman, Jordan



Facts About Jordan

Location: Jordan is located in the Middle East

Language: Languages spoken in Jordan are Arabic which is the official language and English which is widely understood among upper and middle classes.

Currency: The currency used in Jordan is the Jordanian dinar (JOD)

Population: Jordan has a population of 6,508,887 (July 2012 est.)

Land Size: Jordan has an area of 89,342 square kilometers and only 540 square kilometers is water.

Capital: The capital of Jordan is Amman.

Borders: Jordan has borders with Iraq 181 km, Israel 238 km, Saudi Arabia 744 km, Syria 375 km, West Bank 97 km.

Bordering Body of Water: Golf of Agaba with only 26 kilometers of coast line.

Industries: The industries in Jordan include clothing, fertilizers, potash, phosphate mining, pharmaceuticals, petroleum refining, cement, inorganic chemicals, light manufacturing, tourism

Agriculture: Jordan's agriculture include citrus, tomatoes, cucumbers, olives, strawberries, stone fruits; sheep, poultry, dairy.

Land divisions: Jordan is divided into 12 governorates (muhafazat, singular - muhafazah); Ajlun, Al 'Aqabah, Al Balqa', Al Karak, Al Mafraq, 'Amman, At Tafilah, Az Zarqa', Irbid, Jarash, Ma'an, Madaba

Major Cities:
Amman (Amman), Az Zarqā' (Zarqa), Irbid (Irbid), Russeifa (Zarqa), Wādī as Sīr (Amman), 'Ajlūn (Irbid), Aqaba (Aqaba), Mādabā (Madaba), As Salţ (Balqa), Ar Ramthā (Irbid)










Other special words used to help you find this page are facts on Jordan.

References

---
Return from facts about Jordan to world country listing
Return to the home page
---


Thank you for reading this Jordan facts page. I hope you found it helpful and please let us know if you have any suggestions.

Sources
https://www.cia.gov/library/publications/the-world-factbook/geos/jo.html
http://www.memnav.com/w/maps/jordan/
http://www.geonames.org/JO/largest-cities-in-jordan.html
http://www.gvpedia.com/Jordan/Top-Sustainable-Companies-in-Best-of-Jordan.aspx

Medford, Oregon, United States

Central Point, Oregon, United States

Grants Pass, Oregon, United States

Crater Lake National Park, Oregon, United States