Facts About Algeria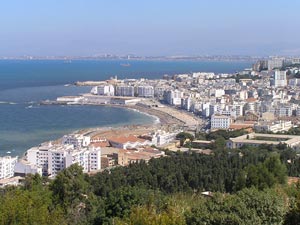 Coast of Algiers, Algeria



Facts About Algeria

Location: Algeria is located in Northern Africa.

Language: Arabic (official), French, Berber dialects.

Currency: Algerian dinars (DZD)

Population: 34,586,184 (July 2010 est.)

Land Size: 2,381,741 square kilometers

Capital: Algiers

Borders: Libya, Mauritania, Morocco, Niger, Tunisia, Western Sahara.

Bordering Body of Water: The Mediterranean Sea

Industries: Petroleum, natural gas, light industries, mining, electrical, petrochemical, food processing

Agriculture: Wheat, barley, oats, grapes, olives, citrus, fruits; sheep, cattle

Land divisions: Alheria is dividen into 48 provinces; Adrar, Ain Defla, Ain Temouchent, Alger, Annaba, Batna, Bechar, Bejaia, Biskra, Blida, Bordj Bou Arreridj, Bouira, Boumerdes, Chlef, Constantine, Djelfa, El Bayadh, El Oued, El Tarf, Ghardaia, Guelma, Illizi, Jijel, Khenchela, Laghouat, Mascara, Medea, Mila, Mostaganem, M'Sila, Naama, Oran, Ouargla, Oum el Bouaghi, Relizane, Saida, Setif, Sidi Bel Abbes, Skikda, Souk Ahras, Tamanghasset, Tebessa, Tiaret, Tindouf, Tipaza, Tissemsilt, Tizi Ouzou, Tlemcen.

Major Cities:
Algiers, Oran, Constantine, Annaba, Batna, Blida, Sétif, Chlef, Djelfa, Sidi Bel Abbes.





Please write your comments about your country













Other special words used to help you find this page are Algeria facts, facts on Algeria, and Facts Algeria.

References

---
Return from facts about Algeria to world country listing
Return to the home page
---


Referenceshttp://www.allyoucanread.com/sfiles/images/category/algeria.jpg (Top photo - Photographer: Damien Boilley)



Medford, Oregon, United States

Central Point, Oregon, United States

Grants Pass, Oregon, United States

Crater Lake National Park, Oregon, United States