News From Chile - 33 Miners Rescued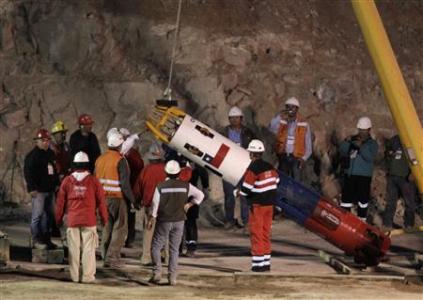 October 14th, 2010 - The best news from Chile today are the rescue of the 33 Chilean miners who spent 69 days trapped in a cave 2,300 feet below the surface of the earth. They where rescued yesterday one by one via a narrow metal capsule that was hoisted slowly. At first, the rescue was slow because it took almost one hour for each trip and it got faster with each time. The entire process lasted less than 23 hours and the operation went flawless.
The world awaited anxiously as the capsule went down slowly and celebrated with relief every time a new miner emerged from it.
At this point, the news report that most of the miners are doing well and in good spirits.
With this successful rescue, the Chilean government has been an inspiration to the entire world because it has demonstrated we all can overcome any challenges as long as we work together.
---
Note: You are welcome to leave your comments about your country.




Sources
http://www.reuters.com/article/idUSN0925972620101012
http://www.reuters.com/resources/r/?m=02&d=20101012&t=2&i=224450690&w=300&fh=300&fw=&ll=&pl=&r=2010-10-12T235343Z_01_BTRE69B1UDL00_RTROPTP_0_CHILE-MINE-RESCUE
---
Return from news from Chile to facts about Chile
Return to world country listing
---