Mi Primer Maraton
My First Marathon

Gane $25/Win $25
English readers scroll down the page to find out how to participate.
Mi Primer Maraton - Oportunidad de ganar $25
El cuatro de Mayo de 2014 va ser mi primer maraton que va a ser en  "La Avenida de los Gigantes" y se lleva a cabo cada año en el condado de Humboldt, California. Le llaman así porque el área está rodeada de árboles gigantes conocidos como secoya (redwoods).
La carrera va a empezar a las 7:45 de la mañana y la mayoría del recorrido va a ser bajo la sombra de estos enormes arboles lo cual harán el trayecto un poco más cómodo y atractivo.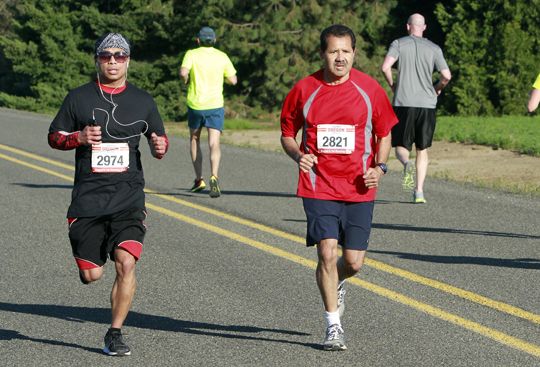 Shamrock Run. 15 de Marzo de 2014. Central Point, Oregon

He decidido hacer esta carrera a la edad de 51 años por dos razones.
1. Para continuar en buena forma y tambien para ayudarme a prevenir algunas enfermedades del corazón, diabetes, Etc.

2. Un reto.
Vaya que si es un reto tremendo ya que se necesita disciplina y motivación. Aunque de vez en cuando tengo dudas de no llegar al final sigo luchando para seguir adelante.
El entrenamiento lo empecé a principios de este año y este ha sido intenso, arduo y con colores que nunca había sentido en mi vida. Voy a participar en este evento con 363 millas de entrenamiento y espero que estas sean suficientes para poder llegar a la meta final.
Como Participar

¿Quiere usted adivinar cuanto tiempo me va a tomar para terminar este maraton? La persona que esté más cerca del tiempo recorrido va a ganar $25.
Solo tiene que poner el tiempo en los comentarios de FaceBook localizados en la parte de abajo. El tiempo que me va a tomar para correr las 26.2 millas va a ser entre 3:30 y 6:00 horas (tres horas y media a seis).
Ejemplo:
Si usted pone 4 horas 10 minutos y otra persona pone 4 horas 5 minutos y mi tiempo es de 4 horas 8 minutos, usted gana los $25.
Harvest Run. Talent, Oregon. Octubre del 2013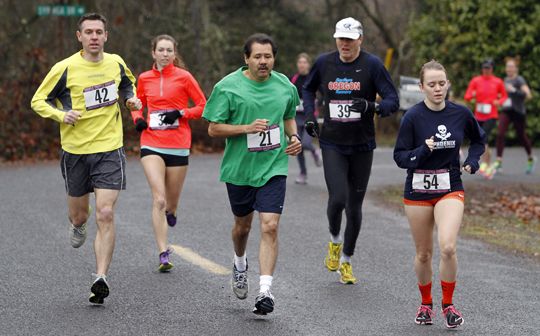 Couple Trouffle Shuffle run. Medford Oregon. 8 de Febrero de 2014

---
How to participate
My first marathon will be May 4th 2014 at the Avenue of the Giants located in Humboldt County, California. So, if you would like to participle at guessing what my finish time will be, all you have to do is enter the time under the FaceBook comments below. The person who guesses the closest time to my finish time will win $25. Anyone is welcome to participate.
Hints:
You need to select a time between three and a half hours to six.
I ran the Pear Blossom run in 1:21:22 last April 12th. Two days later, I ran 20 miles in 3:41:06:66.
I ran 15 miles on 04/19/14 in 2:27:41:14.
04/24/14 10 miles 01:32:35
I have ran this year so far 363 miles.
---
Regresar de Mi Primer Maraton a la pagina principal.

---