Bahamas Flag
Bahamas Flag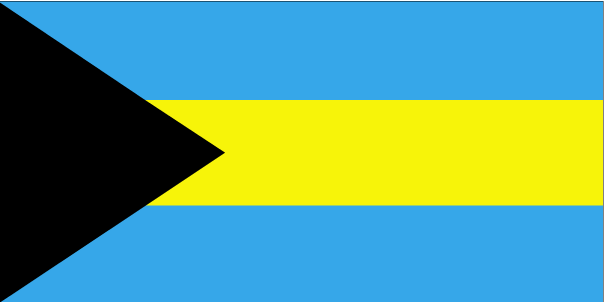 The flag of Bahamas has three equal horizontal bands two of aquamarine (top and bottom) and gold in the middle with a black equilateral triangle located on the hoist side; the band colors represent the golden beaches of the islands surrounded by the aquamarine sea; black represents the vigor and force of a united people, while the pointing triangle indicates the enterprise and determination of the Bahamian people to develop the rich resources of land and sea.
English
Caribbean Countries
Caribbean Map
Bahamas Map
Español
Paises del Caribe
Mapa del Caribe
Bandera de Bahamas
Mapa de Bahamas
Sources
https://www.cia.gov/library/publications/the-world-factbook/flags/flagtemplate_bf.html
This page includes special words to help you find it easily and they include Bahamian flag, flag Bahamas, and flags Bahamas. Thanks for visiting.


---
Return from Bahamas flag to facts about Bahamas

Return to Caribbean countries
---