Oregon State Flag
Oregon State Flag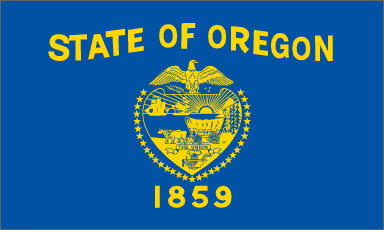 The flag of Oregon is of navy blue color with its designs of golgen color. Out of all the states, this is the only flag that has images on both sides. On the reverse side it has a picture of a beaver which is the Oregon State animal. On the front there is a picture of a heart shaped shield with an eagle on top, surronded by thirty-three stars. This was the numbers of states in 1859. Pictures inside the heart shape shield include the sun setting over the Pacific Ocean, mountains, forests, 2 ships (one leaving and the other arriving represent trade) and a covered wagon. A plow, wheat and pickax represent farming and mining. The eagle represents the United States. On a banner are the words "The Union" representing support for the United States. The words "State of Oregon" are above the picture and the date of statehood "1859" below it.
English
Facts About Oregon
|
Map of Oregon
|
United States Flag
|
United States Map
|
USA States Names
|
USA States and Capitals
|
USA States Abbreviations
|
United States Currency
Español
Estado de Oregon
|
Bandera Americana
|
Estados Unidos Mapa
|
Moneda de USA
Sources
http://www.50states.com/flag/orflag.htm


Other keywords used are oregon flag, flag of oregon, flag oregon, and state flag oregon.


---
Return from Oregon State Flag to facts about Oregon

Return to United States Facts
---