Map of Grenada
Map of Grenada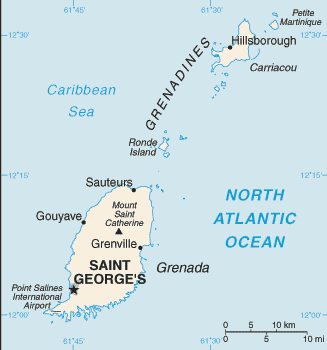 Grenada is located in the Caribbean. It is island between the Caribbean Sea and Atlantic Ocean, north of Trinidad and Tobago.
Grenada has 6 parishes and 1 dependency*; Carriacou and Petite Martinique*, Saint Andrew, Saint David, Saint George, Saint John, Saint Mark, Saint Patrick.
Major cities of Grenada include Calivigny, Belmont, Saint Davis, Grand Roy, Marquis, Grenville, Grenville, Tivoli, Victoria, y Sauteurs.

English
Caribbean Countries | Caribbean Map | Granada Flag

Español
Paises del Caribe | Mapa del Caribe | Bandera de Granada



Sources
https://www.cia.gov/library/publications/the-world-factbook/maps/maptemplate_gj.html
Other tags used are maps grenada, grenada map, and grenada maps.


---
Return from Map of Grenada to Caribbean countries

Return to the home page
---