Map of Samoa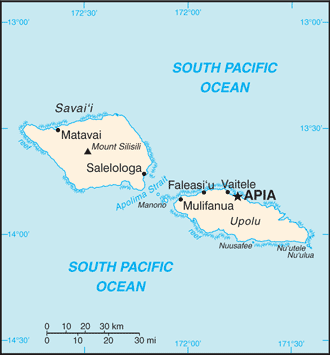 Map of Samoa
Samoa
is a group of islands in the South Pacific Ocean. Its location is about half way between Hawaii and New Zealand. As you can see on the Samoan map, this country is formed by 10 islands; 2 large islands and 8 small islands (unable to see on the map). Its total area is 2,831 square kilometers (sq km) of which 10 square kilometers is water.
---
Note: You are welcome to leave your comments about
Samoa
. You are also invited to join our growing
Spanish Social Network
.
Other words used to help you find this page are map samoa, maps of samoa, samoa islands map, and samoa on map.
Sources
https://www.cia.gov/library/publications/the-world-factbook/geos/ws.html
https://www.cia.gov/library/publications/the-world-factbook/maps/maptemplate_ws.html
---
Return from Map of Samoa to facts about Samoa
Return to world country listing
---