Virgin Islands Flag


Virgin Islands Flag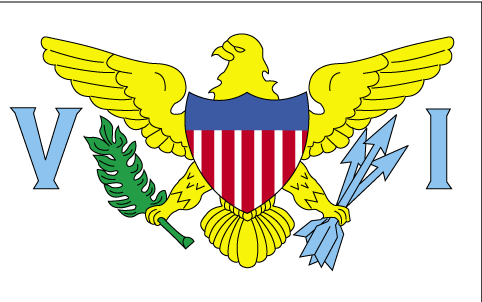 The Virgin Islands have a flag of white color that has some features of the U.S. seal. It has one eagle claw that holds three arrows which represents the three major islands: Saint Croix, Saint John, and Saint Thomas. The other claw holds an olive branch. The flag has 13 alternating white and red stripes in the middle. On the sides of flag are the letters V and I that mean Virgin Islands.
English
Caribbean Countries
|
Caribbean Map
|
Virgin Islands Map
Español
Paises del Caribe
|
Mapa del Caribe
|
Islas Virgenes Bandera
|
Islas Virgenes Mapa
Sources
https://www.cia.gov/library/publications/the-world-factbook/flags/flagtemplate_vq.html
Other tags used are Virgin Island flag, flag Virgin Islands, and flags virgin islands.


---
Return from Virgin Islands Flag to Virgin Islands Informstion

Return to Caribbean countries
---