Samoan Flag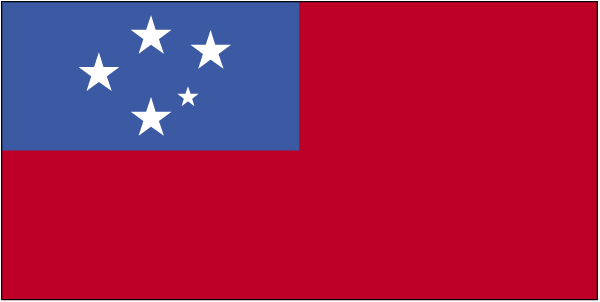 Samoan Flag
The
Samoa
flag is mostly of color red with a blue rectangle in the upper hoist-side quadrant bearing five white five-pointed stars representing the Southern Cross constellation which is a prominent constellation of the southern hemisphere. Each of the stars represent the stars named Alpha, Beta, Gamma, Delta and Epsilon in the constellation. Epsilon is smaller because it doesn't shine as brightly as the other stars within the constellation. The red represents courage. The blue represents freedom. The white signifies purity.
---
Note: You are welcome to leave your comments about
Samoa
and the flag. You are also invited to join our growing
Spanish Social Network
.
Other words used to help you find this page are flag Samoa.
Sources
https://www.cia.gov/library/publications/the-world-factbook/flags/flagtemplate_ws.html
http://www.worldflags101.com/s/samoa-flag.aspx
---
Return from Samoan Flag to facts about Samoa
Return to world country listing
---