Puerto Rico Map


Puerto Rico Map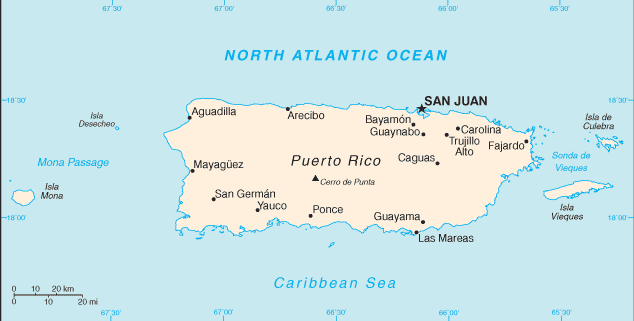 Puerto Rico is an island located in the Caribbean. This Island is between the Caribbean Sea and the North Atlantic Ocean. It is east of the Dominican Republic.
These are towns of Puerto Rito:
Adjuntas, Aguada, Aguadilla, Aguas Buenas, Aibonito, Añasco, Arecibo, Arroyo, Barceloneta, Barranquitas, Bayamón, Cabo Rojo, Caguas, Camuy, Canóvanas, Carolina, Cataño, Cayey, Ceiba, Ciales, Cidra, Coamo, Comerio, Corozal, Culebra, Dorado, Fajardo, Florida, Guaynabo, Guanica, Guayama, Guayanilla, Gurabo, Hatillo, Hormigueros, Humacao, Isabela, Jayuya, Juana Diaz, Juncos, Lajas, Lares, Las Marias, Las Piedras, Loiza, Luquillo, Manatí, Maricao, Maunabo, Mayagüez, Moca, Morovis, Naguabo, Naranjito, Orocovis, Patillas, Peñuelas, Ponce, Quebradillas, Rincón, Rio Grande, Sabana Grande, Salinas, San Germán, San Juan, San Lorenzo, San Sebastian, Santa Isabel, Toa Alta, Toa Baja, Trujillo Alto, Utuado, Vega Alta, Vega Baja, Vieques, Villalba, Yabucoa, and Yauco.

English
Caribbean Countries | Caribbean Map | Puerto Rican Flag

Español
Paises del Caribe | Mapa Del Caribe | Puerto Rico Bandera | Puerto Riqueño Mapa



Please leave a comment:

Sources
https://www.cia.gov/library/publications/the-world-factbook/geos/rq.html
https://www.cia.gov/library/publications/the-world-factbook/maps/maptemplate_rq.html
Other tags used are map of Puerto Rico, puerto rican map, maps Puerto Rico.


---
Return from Puerto Rico map to Puerto Rico facts

Return to Caribbean countries
---